Types of Cashback
In the app's Stores section you will see any Cashbacks that may be available in stores. If present, the campaign will be indicated with the name and colour relevant to the type of Cashback. By tapping the coloured button, you can view any conditions and details regarding the Cashback.
As always, the exact amount of the refund you'll receive will be displayed before sending the payment.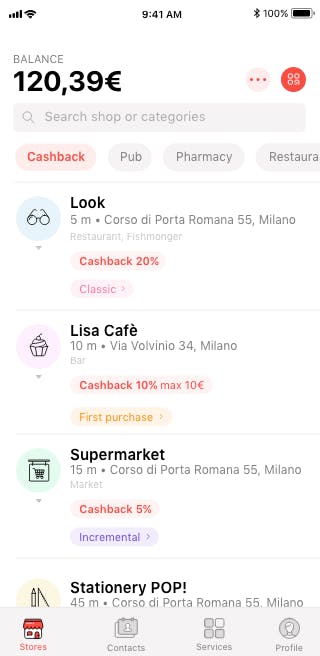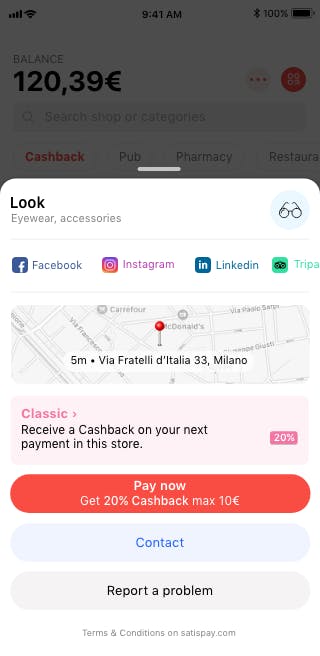 You can receive the following types of Cashbacks:
Classic - Receive a Cashback on each payment (example: 20% Cashback on all purchases).

First Purchase - Receive a Cashback on your first payment made in a specific store or chain.
Incremental - Increase the refund amount with each payment you make in specific stores. (example: 5% Cashback on your first payment, 10% on your second, 15% on the rest).
Remember that the app will always display the correct Cashback and limit. Always refer to the list of Stores in your app to discover the promotions that are available to you, as indicated in the Satispay Cashback conditions!
Why do I see the coloured icon but not the Cashback percentage?
The coloured Cashback icons will always be visible to help you understand which promotions are active in affiliated stores. But remember: you will only be eligible to receive a reimbursement if you see the red Cashback icon that displays the relative percentage and any pending limits on the refund amount.
Always check all the Cashback details to be sure of the Cashback you are eligible to receive.
Is it possible that a Cashback differs for users? 
Given the nature of the promotions, it is possible that the Cashback you are eligible to receive differs from that of your contacts, despite being in the same place. This may occur, for example, if one of you has already paid with Satispay in a store offering a First Purchase Cashback. It may also be the case that you have made a different number of payments in a store offering an Incremental Cashback.